Spinal Decompression in Sun Prairie
5-Star Care For The Whole Family
If you're having disc or nerve pain in either the neck or lower back, spinal decompression therapy may help. A natural and conservative approach to pain reduction, this therapy uses a specially designed traction table.
At Ager Chiropractic Wellness Center, we use a Dynatronics table to achieve results for disc injuries and nerve compression. This helps create an optimal healing environment, and in many cases, the discs heal on their own, as an alternative to surgery.
Don't Put Up With Pain Any Longer – Call (608) 318-1786 now to schedule your appointment!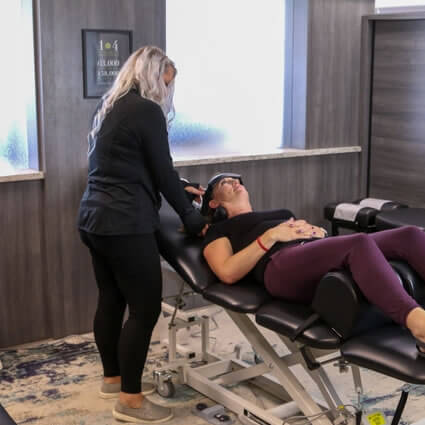 How Does It Work?
During this process, we create an intermittent stretch and release in the lower back or neck. The table will stretch the spine at a tension customized to the patient's size, release it, and stretch it again, creating a pumping mechanism to relieve pressure on the nerve.
This non-surgical option enhances your nerve function. The process also increases blood and nutrient flow to the area, helping reduce inflammation, and creates a negative vacuum, so herniated discs slide back into their normal position.
A gentle, non-invasive procedure, it provides relief from
Bulging discs, herniations and protrusions
Sciatica/nerve pain
Disc compression/degeneration
Stenosis
Post-surgical pain
Lumbar/cervical radiculopathies
Osteoarthritis
Arm/leg pain and numbness
Chronic neck or back pain that's not responding to traditional treatment
Based on your care plan, there are several cycles of stretch and relaxation during your session. The procedure is not painful, and many patients enjoy the experience; some even fall asleep!
Call (608) 318-1786 or book directly online now!
What to Expect
Dr. Sandy will assess what's going on in the area, how long the injury has been there, and several other factors. The number of sessions varies according to your condition and customized care plan. A typical plan will include sessions for 8-12 weeks. Patients usually begin to notice relief within the first few sessions.
We have packages and payment plans available for spinal decompression therapy. It's not recommended for patients with osteoporosis, nerve damage, surgically implanted plates or screws, or pregnant women.
Here to help you achieve long-term wellness
Call (608) 318-1786 to book your $49 New Patient Special!