About Ager Chiropractic Wellness Center
Our Mission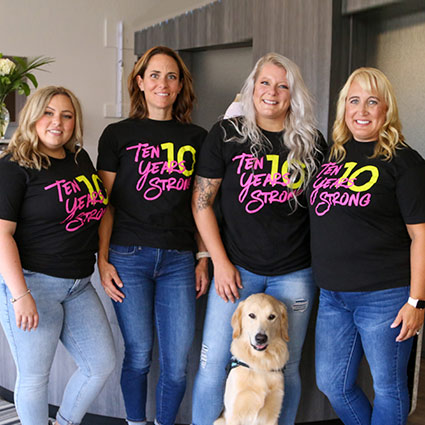 At Ager Chiropractic Wellness Center, our mission is to provide high quality chiropractic care, supportive therapies and nutritional weight loss solutions. By embodying the value of regular chiropractic care and a healthy lifestyle, we strive to empower our patients and community to reach their full health potential.
We offer care for patients of all ages, from newborn on up. Dr. Sandy Ager is certified in the Webster Technique for
pregnant women
and has advanced training in TMJ disorders. She also specializes in extremity adjusting and
sports injury care
.
Our History
Dr. Sandy received her Doctor of Chiropractic degree from Palmer College of Chiropractic in 2006. She worked as an associate for many years before opening our practice here in Sun Prairie. Since she lived here and wanted to raise her family in the community, it was important to practice in the same area so she could build lasting relationships.
We're celebrating our tenth anniversary of opening our practice in 2012, and we're thrilled to be caring for many of the same patients who started with us a decade ago. Our practice is built on referrals, and we're grateful that our patients trust us with their health and family.
Our office is comfortable, inviting and relaxed—not your typical clinical setting. Our experienced and compassionate team is committed to empowering you to take control of your own health, so you can create long-term wellness.
Celebrating Your Successes
We had a patient recently, a 12-year-old girl with a previous back injury from competitive basketball. She sustained a new back injury and came to us for care. In all her previous care, she had never been X-rayed. We did a comprehensive exam, including appropriate X-rays, and were able to tailor very specific care to correct her injuries. She's thriving now, pain-free, and playing basketball at a higher level.
Schedule Today
Whether you have an injury or another condition, we want to go beyond simple pain relief—we want to help you achieve long-term wellness. Contact us today to book an appointment.
---
About Ager Chiropractic Wellness Center | (608) 318-1786