Sports Chiropractic in Sun Prairie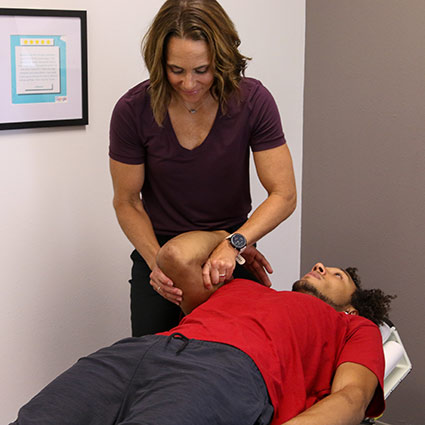 You don't have to be a pro to benefit from sports chiropractic care. Anyone with an active life places additional demands on their body that chiropractic care may help with.
Whether you're a weekend warrior, a school-aged athlete, someone who stays fit at the gym or an elite athlete,
Ager Chiropractic Wellness Center
offers care to keep you playing at your best.
Benefits of Sports Chiropractic
Dr. Sandy strives to educate patients about the benefits of chiropractic for people who play a sport, whether competitively or recreationally. The primary benefits include
Preventing or correcting an injury: Regular chiropractic care may help keep your body and nervous system functioning optimally, which lowers your risk of injury. If you are injured, chiropractic care can restore alignment, which allows your body's innate healing ability to take over so you can recover faster.
Improving performance: When we keep your spine and extremity joints aligned and moving properly, your nervous system can function as it should. Since your nervous system controls every cell, organ and tissue in your body, performance can be improved when it functions well.
Life after sports: Chiropractic care may help prevent and correct injuries and improve performance. It allows your body to age better, with fewer sport-related debilitating conditions down the road.
Dr. Sandy is a Certified Chiropractic Extremity Practitioner trained in identifying and correcting overuse injuries common with athletes. These days, we see a lot of kids who specialize in a sport early on, and they can get overuse injuries that used to only be seen in adults. Dr. Sandy can identify those and help kids continue to participate safely in the sport they love for a long time. She also has advanced training in concussion care.
We'll conduct a thorough examination, including muscle testing specific to your injury. If necessary, we'll take X-rays to confirm a diagnosis. Then we'll create a care plan designed to get you back to your sport, pain-free, as soon as possible.
Book Today
All the professional teams have a chiropractor—shouldn't you? Contact us today to schedule.
CONTACT US »
---
Sports Chiropractic in Sun Prairie WI | (608) 318-1786